As a passionate gamer, I always wanted an amazing PC with swift processing time. And you all know we need to invest in good RAM for those heavy-duty games first.
So, I hopped onto the bandwagon and looked for some best RAMs available online. After a lot of research, tests and trials, I came across 7 RAMs that were amazing. Don't worry; I will share these picks with you in this post, so you don't have to go through any hassle.
Choosing the best RAM for gaming depends on what sort of games you want to play. Remember, the lousier your ram is, the more disturbing your gaming experience would be. So think before you make any moves! As I told you guys, I have tried my hands over many RAMs, but here are the 7 of them that worked well for me. If you are in a hurry let's have a look at the top 3 best rams for gaming
Best Ram for Gaming at a Glance:
Best Ram for Gaming in 2022 You Can Buy Today
---
Best Pick
Teamgroup T-Force Xtreem ARGB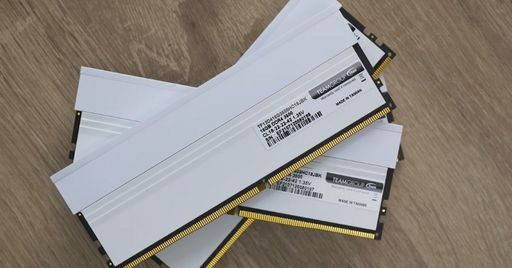 Fastest RAM For Gaming
SPECIFICATIONS
Brand: TEAMGROUP | RAM Memory Technology : DDR4 | Computer Memory Size : 16 GB | Memory Speed: 4000 MHz
I will start my list of the best RAMs for gaming with the Team Group's T Force Xtreem, as this is one of the most powerful RAMs for gaming on the marketplace. I got it in a clear white colour, and it has this flawless, sleek design with no extras, just simple aesthetics.
It has this light penetrating design that gives the entire RAM a white finish when it is illuminated or not. It has this unique optical technology design that is just awesome. And the good thing about this RAM is that the software can control the lightning. You can control the lighting and synchronize it along your module.
I like how with so much advancement, the voltage rate is decreased to 1.2 V, which helps you save energy while keeping the performance at its peak. It is plug-and-play ready, and the installation is so easy that even beginners can attempt it. It literally took me 2-5 minutes to install this RAM.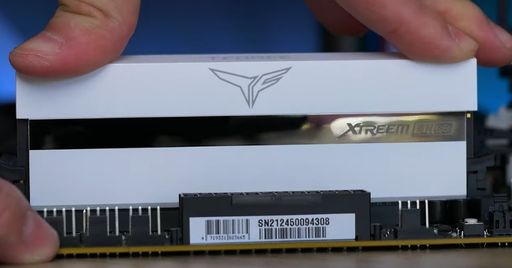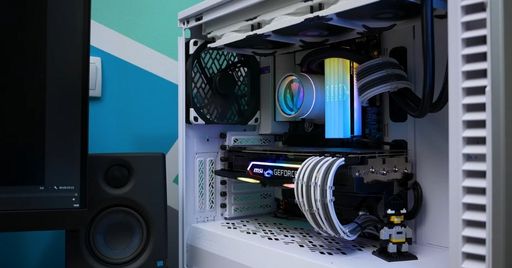 Moreover, this RAM works awesome for overclocking. Tuning it was very simple thanks to its quick running BIOS. Additionally, I am in love with its auto overclocking feature, which makes it just a piece of cake to overclock without manually adjusting the BIOS. I overclocked this up to 3733 MHz at stock settings, and the results were flawless.
With such exceptional overclocking headroom, I expected this one to run hot sometimes. Fortunately, the heat dissipation system here is robust and reliable enough to have the system running as cool as ice.
Equipped with multiple compatibility verifications, it can ensure it is stable with every motherboard. The IC is stable and reliable and has an awesome memory speed of 400 MHz along with 16 GB memory.
The memory kit is single-ranked, and I bet you guys can find a dual-ranked memory kit in the market for the same price. But I liked the overclocking potential and memory capacity here, so I had to go with this.
REASONS TO BUY
✓Auto overclocking ability
✓Banging memory
✓Top notch looks
✓Stable operation
REASONS TO AVOID
✗Expensive
✗Single RGB for some
WHY YOU SHOULD CHOOSE THIS RAM?
Overall this is one of the best RAM if you are looking for an overclocking RAM. It is just outstanding because it has some top notch looks and a bagging memory capacity. If you can afford it we suggest you go for this one!
Budget Pick
Patriot Viper 4 RGB DDR4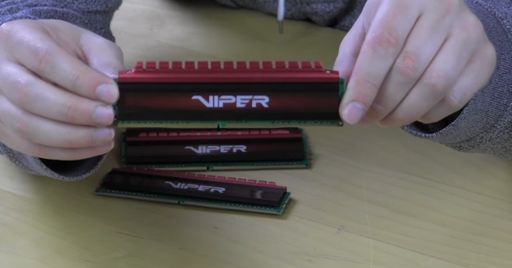 Best Budget RAM For Gaming
SPECIFICATIONS
Brand: Patriot Memory | RAM Memory Technology: DDR4 | Computer Memory Size : 16 GB | Memory Speed : 3000 MHz
I know the difficulty you guys have in finding RAM for low-profile cases. The Patriot Viper 4 series is one of the best low-profile gaming RAMs because of its tiny footprint.
Additionally, this is also one Budget friendly option. I am aware building a PC on a budget construction is not simple. You must read in-depth reviews because choosing cheap hardware will always mean sacrificing the system's performance. One of the best RAMs, as well as the most affordable and durable RAM, is the Patriot Viper 4 series.
This RAM employs a tailored air-craft grade all-aluminium heat shield to ensure top-notch heat dissipation. It makes sure the system is constantly stable and functions smoothly. I'll test this one under strain to see how well it performs.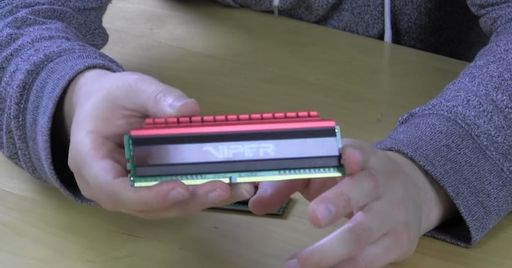 I'd want to discuss the overclocking headroom now. I really overclocked this one to 3000 MHz, and it performed well. However, I will tell you guys that the performance remains excellent despite the limited overclocking headroom.
One item that worried me was the absence of temperature sensors on the memory sticks. Because of this, I could not monitor the temperature component, and the situation was somewhat chaotic. Overall though, it is a performance RAM that is affordable.
This RAM from Patriot Memory has 16 GB of memory and a memory speed of 3000 MHz, making it one of the fastest RAMs available. It is also the most energy-efficient RAM available, using only 1.3 V and having a power draw capacity of roughly 3733 MHz. Use this RAM to up your overclocking game.
When overclocking the machine and offering outstanding bus speed, DDR4 RAM performs exceptionally well. Additionally, DDR4 aids in future-proofing your system, allowing it to run for an extended period of time.
REASONS TO BUY
✓Rock solid construction
✓Budget friendly RAM
✓Easy to maintain
✓Awesome memory speed
REASONS TO AVOID
✗No temperature sensors on memory sticks
WHY YOU SHOULD CHOOSE THIS RAM?
If you are a gamer on a budget, then the viper 4 might is one of the best budget RAMs for gaming. It has a good speed, is easy to maintain and comes at a good price. Remember, it doesn't have temperature sensors, but I can compensate for that with the performance.
Corsair Vengeance RGB Pro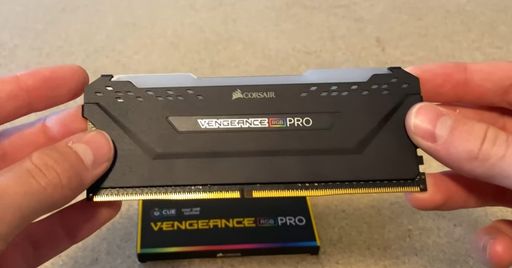 Best RAM For Gaming
SPECIFICATIONS
Brand: Corsair | RAM Memory Technology: DDR4 | Computer Memory Size: 16 GB | Memory Speed: 3600 MHz
Now, they also have a less expensive model if you cannot afford a Corsair Vengeance RGB Pro 32 GB. The Corsair Vengeance 16GB is identical to the last model but has a smaller memory capacity and a lower price, making it the best gaming RAM for all processors.
Let me first talk about the 10 addressable RGB LEDs that are extremely brilliant. This gives the Vengeance a vibrant and dynamic appearance that some people could adore while others might object to it as overly shiny.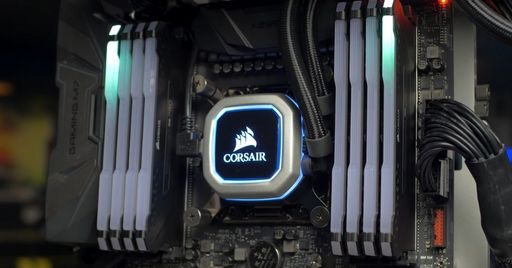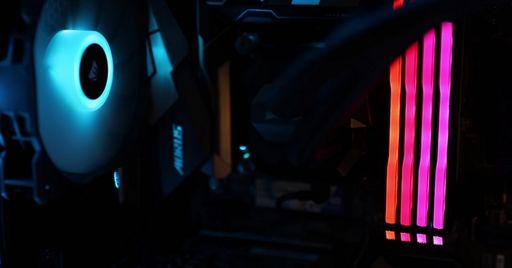 Additionally, the entire RGB may be changed using the iCUE program, exactly like its forebears. Its pristine appearance is mouthwatering. It has a custom-built performance PCB that aids in producing the highest-quality signals and reliable performance. If you have been looking for RAM with good RGB, then the Corsair Vengeance is just a pro in real.
The high-performance DDR4 memory gives that cool, illuminated look to your system. It contains hand-screened ICs that enable you to maximize system overclocking. There is a lot of heat generated by all of this strong performance.
However, because of its aluminium heat spreader, it is incredibly effective in cooling. Even with limited memory, memory speed has never been affected. It continues to provide a speed of 3600 MHz, which is amazing!
REASONS TO BUY
✓Sheer performance
✓Easy to install
✓Best for gaming
✓Adjustable RGB
REASONS TO AVOID
✗Bit bulkier
✗Messy ICUE software
WHY YOU SHOULD CHOOSE THIS RAM?
Overall it is a nice RAM, and I was shocked to see the sheer performance this memory kit delivers. The software might be a bit messy until you get used to it. Also, don't forget to measure the space you have before you purchase this RAM as it is a bit bulkier, but If you have some extra space, you must go for this one.
Skill Trident Z Neo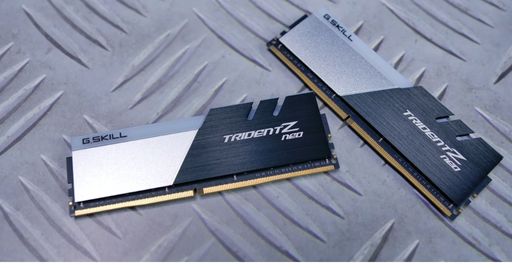 Best Overclocking RAM FOR Gaming
SPECIFICATIONS
Brand : G.Skill | RAM Memory Technology: DDR4 | Computer Memory Size: 32 GB | Memory Speed: 3600 MHz
Trident Z Neo was specifically designed for the ultimate gaming experience. It is just way too powerful than your average RAM. With a spacious 32 GB kit having 2 x 16 GB modules, you will just forget about lags or bottlenecks on your system.
The Trident Z Neo has high memory performance and efficiency as the best overclocking RAM for gaming. It is more than ideal for demanding video editing and Triple-A Title gaming programs.
This one is the best DDR4-3600 MHz memory kit available for video game development. It has a low latency of about 18-18-18-24 and amazing performance. The G.Skill Trident Z Neo is perfect for your upcoming PC build!
With that, it has 288-pin with a CAS latency CL16. And all this powerful performance is delivered using the least energy of up to 1.35 V. It has this dual-tone design of black brushed aluminium and powdered coated silver.
The trident z neo gives some good power goals with the dual-toned heat spreader. Additionally, you can completely control the 8-zone RGB lightning using the Trident Z Lightning control Software.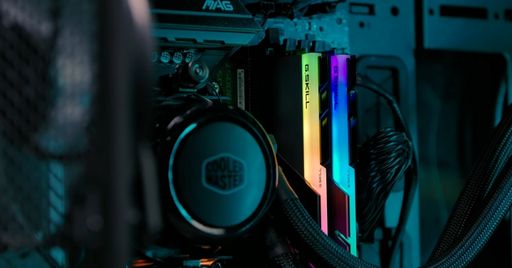 I was able to run the newest AAA games using features like CL18 latency and dual-channel design. A fantastic high-performance memory option, G.SKILL Trident Z is made to meet the needs of even the most ardent PC gamers.
Trident Z memory provides extremely quick data transfers, greater stability, almost zero latency, and less power usage. Trident Z memory allows you to play games more quickly and use programs to their full potential without worrying about stability.
I could overclock successfully in this case since the XMP profile was easy to access. Everything worked when I attempted overclocking this one to 3800MHz. Additionally, the installation process was straightforward, and I appreciate how bare this RAM is.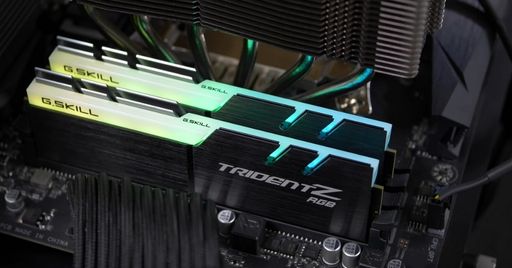 Although I found this RAM ideal for gaming, I'm hoping that the data rate will eventually be increased.
REASONS TO BUY
✓ Quick installation
✓ Best for gaming
✓ Spacious memory size
✓ Responsive RGB
REASONS TO AVOID
✗Data rate might be limited for some users
WHY YOU SHOULD CHOOSE THIS RAM?
Honestly, it is among the best RAM for Gaming because it has an awesome memory capacity and looks colourful. However, some friends of mine reported the speed was insufficient for them, so be mindful of that.
Vengeance RGB Pro 32GB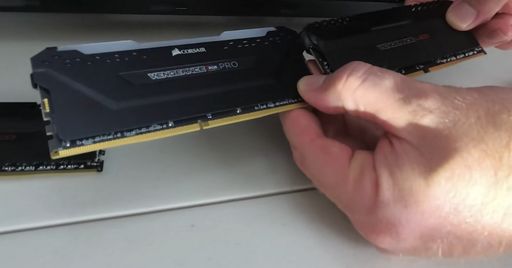 Best High-End RAM For Gaming RGB
SPECIFICATIONS
Brand: Corsair | RAM Memory Technology: DDR4 | Computer Memory Size: 32 GB | Memory Speed : 3200 MHz
The Corsair Vengeance is one of the high-end RAMs available for gaming. Corsair did a fantastic job of creating a great balance between features and performance. I shall examine every aspect of this memory's performance in this review.
According to Corsair, the Vengeance RGB PRO memory sticks are their most advanced memory modules yet in terms of technology. The start-up promises your gaming system will run incredibly quickly.
In order to give you the most profound gaming experience possible, they also claim to be made with the greatest standards of quality and reliability. The triple-channel configuration of this 32 GB DIMM makes it ideal for gaming systems.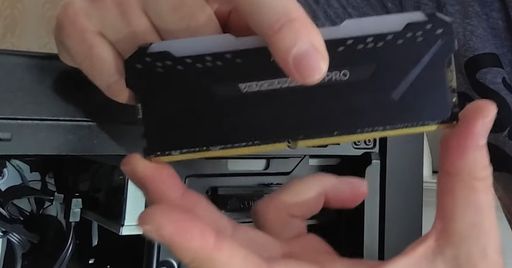 This 32 GB kit accommodates extreme overclockers with the highest level of dependability and has an overclocking potential of more than 3%.
Additionally, its performance is extraordinary. Even though it delivers the fastest speed, it is consistently stable. This one I'm taking home with me.
REASONS TO BUY
✓High memory speed
✓Easy to install
✓Good gaming RAM
✓Awesome memory
REASONS TO AVOID
✗Expensive
WHY YOU SHOULD CHOOSE THIS RAM?
Although Corsair is expensive, I loved it because it has a speed of 3600 MHz and a high memory size of 32 GB. The Vengeance 32GB RGB Pro series is a great option if your computer requires new RAM. It offers remarkable stability, quick data transmission rates, and good performance.
Crucial Ballistix Gaming Memory BL2K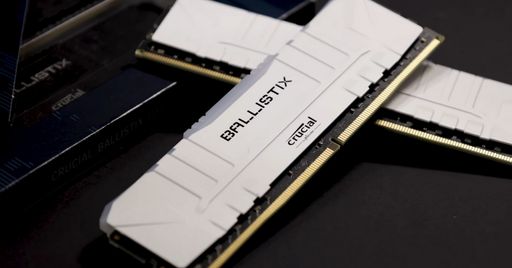 Best Value RAM For Gaming
SPECIFICATIONS
Brand: Crucial | RAM Memory Technology: DDR4 | Computer Memory Size: 16 GB | Memory Speed : 3600 MHz
I advise you guys to choose the Ballistix Sport Gray 16GB RAM if you want to get the most out of your purchase. At the same cost as previous kits, you may have all the advantages of DDR4 and some amazing new colours.
Crucial has introduced the new Ballistix Sport Gray range of memory modules to satisfy the demands of both expert and ardent gamers. All common DDR4 computer motherboards and DDR4 compatible systems can use the Ballistix Sport Gray DDR4 modules.
The new series has been designed to run at a higher frequency and lower voltage than existing DDR4 modules on the market and has high-quality components. The new Sport Gray modules have a higher frequency and a lower operating voltage, which substantially enhances the performance of games and applications.
It is specifically made for high-performance gaming and video editing applications. It has the features required to fully utilize the most recent advancements in video processing and high-quality audio solutions.
The fact that you can overclock this RAM to 3000MHz is another wonderful feature. It is not a high-end RAM. Thus I won't advise using it for aggressive overclocking. It can, however, nonetheless put out a respectable performance.
Additionally, this RAM's outstanding heat dissipation is its finest feature. Thanks to the heat dissipation management, I enjoyed how this RAM operated even at a greater temperature. Overall, the installation process was simple, and XMP was very easy to use. The good latency and overclocking didn't let me down, either. In the end, this RAM is the finest value for game creation; I have nothing terrible to say about it.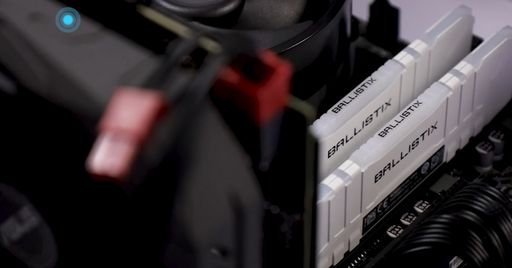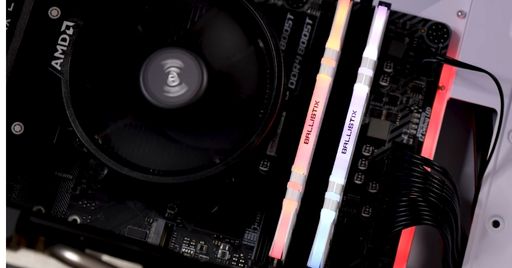 REASONS TO BUY
✓Perfect fitting size
✓Awesome heat dissipation
✓Good latency
✓Robust overclocking potential
WHY YOU SHOULD CHOOSE THIS RAM?
Professional and amateur game creators should use Crucial Ballistix Sport Gray RAM. The Sport Gray RAM is a great RAM option because it has a low voltage and high frequency.
Staff Pick
TeamGroup T-Force Dark Z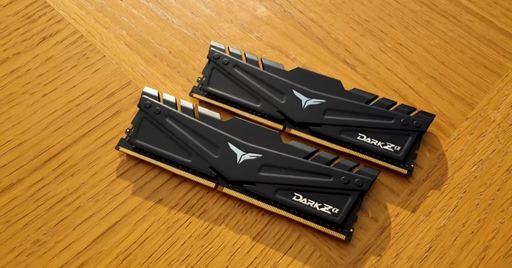 Overall Best RAM For Gaming
SPECIFICATIONS
Brand : TeamGroup | RAM Memory Technology: DDR4 | Computer Memory Size: 16 GB | Memory Speed : 3200 MHz
Team Group T- Force Darz is the MVP of today's list and is the overall best RAM for gaming. Overclocking has always been a huge favourite of mine because, why not? You must know that only a limited range of processors and RAM can be overclocked. I would advise choosing the TeamGroup T-Force Dark Pro if you are an enthusiastic overclocker like me.
Additionally, the RAM is made for both regular use and gaming. It has a potent processor and fantastic speed. Let me quickly go through the specifications. The TEAMGROUP T-Force Dark Pro has a 3200MHz speed, 16GB of memory, and CL14 latency.
Here, I'd like to point out that this RAM isn't just the finest for video editing programs and gamers. But it also has the strongest and longest-lasting memory and works well when multitasking.
I want to start by explaining the installation procedure for the Dark Pro. This is quick to install right out of the box, and I don't believe anyone would have any problems doing so.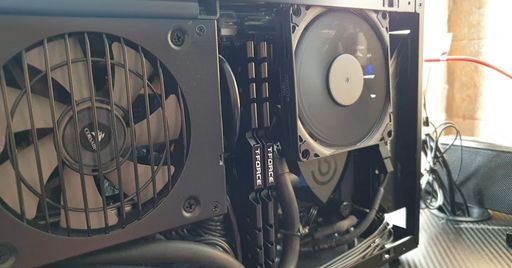 I should note that the design lacks RGB, but since I don't care as much about looks, this wasn't a problem for me. But I think some users would disagree with my choice.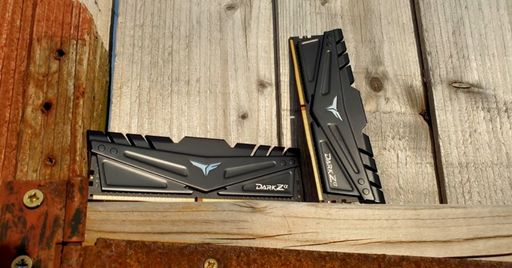 Moving on to the overclocking section. You may anticipate this costly RAM, which you know will perform like a beast when overclocked. I then overclocked this RAM to 4133Mhz, and the results were fantastic!
It was incredibly easy to overclock the PC; all I had to do was go into my BIOS or XMP and start there. Moving on to the heat sensors that were missing from this RAM, heh!
However, it is not a significant deal, as many vendors already exclude those temperature monitoring sensors. While I was operating the system under load, the temps stayed consistent.
This temperature stability is primarily a result of the big, deep heat-spreader, which offers a potent capability for heat dissipation. Your user experience will be excellent because of the Dark Pro's excellent performance, quality, and aesthetic.
Let's be honest, this RAM is excellent in every way except for lacking RGB, but I don't think that would make much of a difference. I didn't even dislike a single aspect of it. In addition, the cost is a bit high, but you get what you pay for, people!
REASONS TO BUY
✓Gaming pro
✓Reaches stock speed quickly
✓Fast and stable RAM
✓Efficient heat sink
REASONS TO AVOID
✗Expensive
WHY YOU SHOULD CHOOSE THIS RAM?
I would unquestionably choose the TEAMGROUP T-Force Dark Pro 3200MHz as a serious gamer. It is extremely overclockable and has a sturdy construction. Save your money and purchase this one since it is worth it for the performance!
Conclusion
Getting robust RAM is just what you need to quench the thirst of an avid gamer inside you. However, selecting one isn't a piece of cake, and you have to look out for many things like compatibility, speed levels, and memory capacity. Hopefully, this post article has made RAM selection a no-brainer for you. If you haven't decided yet, let me share my favourite ones!
So which RAM are you going for? Hurry up and step up your gaming level!
Frequently Asked Questions
Is Higher RAM Better For Gaming?
Yes, a higher RAM works best for gaming. A bigger RAM improves gaming experience and tends to load the system faster. Because of this you will also be able to store more information quickly and swiftly.
What Type Of RAM Is Best?
For gaming the DDR3 and DDR4 rams are used mostly. The DDR4 RAM is better in every aspect than any other previous RAM types. Because the DDR4 uses less energy, works faster, and has an unlimited capacity of memory size so they are always preferred over other DDR3 or DDR2 rams.
Is 32 GB Of RAM Overkill?
Yes, a 32 GB RAM falls under the overkill category. Most of the time a 16 GB RAM is enough to drive most of the modern day games. But a 32 GB RAM means that there will be smoother and stable graphics yet it is just excessive.