Intel is not known for its budget processors, while its competitor AMD has strongly placed itself in the hearts of budget gamers but with the Intel i5 9400f, you can land a very good processor in the budget segment if you are looking for an alternative processor.
Any modern AAA title can be easily handled by this processor, and you don't have to complain about its results. We tested and tried it in competitive games like APEX and Fortnite, while the latest marvel of technology, CyberPunk 2077, also ran flawlessly.
The main reason for this is because it gets an increase of 100 MHz in comparison to the last generation of this processor.
There is a slight drawback though, which is the inability of this processor to be overclocked but with the right motherboard, you can easily run the processor at max turbo mode and it makes it run at 4.3 GHz.
As you can see that to get the juice out of this processor, you would be needing the right motherboard.
In the market out there, a plethora of options can be seen but picking the best motherboard is always a hassle, but don't worry in this article we will help you get the best companion for your processor.
The motherboard that we would be recommending would not be from the premium price segment as it is a budget processor and spending a lot on expensive motherboards is not a good move.
Best Motherboards for i5 9400f at a Glance:

ASRock B365M-HDV

MSI H310M PRO-VDH PLUS:

Gigabyte B365M DS3H

MSI Z390-A PRO

ASRock B365 Phantom Gaming 4
Best Motherboard for i5 9400f You Can Buy Today
---
ASRock B365M-HDV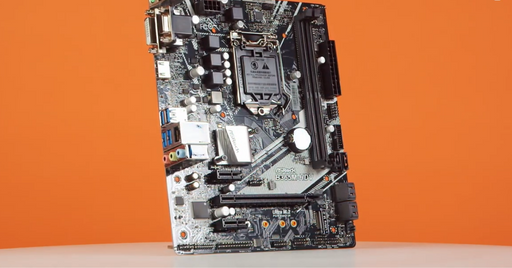 SPECIFICATIONS
CPU Socket: LGA 1151 | Brand: ASRock | Memory Speed: 2400 MHz | Chipset Type: Intel B365
The ASRock B365M-HDV is a budget-friendly processor and it is perfect for the 8th and 9th generation processors of Intel. It gives excellent performance with great materials being used at an affordable rate.
The other entry-level boards don't give a performance and value for money like the ASRock motherboards. They have always focused on affordability without compromise the value you get for your money.
In this price range, the other companies give additional features that are not necessarily boosting the performance, thus ASRock has skipped those features.
The motherboard has 6 SATA slots which means you have some future-proofing as you can expand your HDD easily and add an SSD for faster boot times.
The NVMe drives are a need of the current time and it has an M.2 slot that supports up to 64 GBPS of transfer speed.
There are two DIMMs on this board and sadly they only allow you to have a memory of up to 32 GB, which is very good for a budget system but it would have been very nice if it had support for 64 GB, as competitors in this price range are providing that.
Keep in mind that this motherboard is not capable of supporting a multiple graphic card setup, the multiple graphic card setup can enhance your gaming performance by making the rendering of the three-dimensional images an easy task and also results in more frames per second in gaming.
The processor we are considering, the Intel i59400F is not recommended for a dual graphics card setup, as it would result in a bottleneck. The best thing is that this motherboard is compatible with many models of graphic cards out there.
It has a lot of connectivity options. The USB 2.0, the USB 3.0, and a Type-A port but it lacks the USB Type-C port and thus you have to rely on adapters and converters.
The audio on this motherboard is from Realtek and this will provide you a very budget-friendly audio output, nothing exceptional but this is understandable in this price-tag.
This is a very good motherboard overall but there are two major flaws here that you need to consider. The gaming and applications nowadays require more memory and having two memory DIMMs slots will become a big hassle in the future when you need to upgrade your ram.
The M.2 slot has been placed under the graphic card, which is the hottest component of your computer and this is a flaw that shouldn't have been there.
REASONS TO BUY
✓Affordable
✓Good build quality for the price
✓Good motherboard for a budget build
REASONS TO AVOID
✗Lack of Type-C port
✗M.2 placed at a wrong place
✗Only 2 DIMMs slots
MSI H310M PRO-VDH PLUS: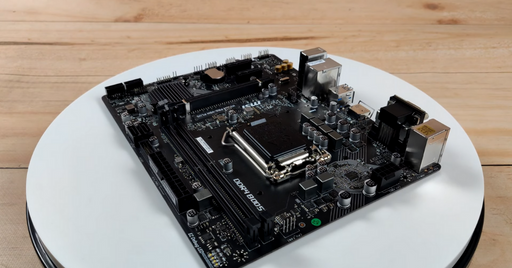 SPECIFICATIONS
Brand: MSI | CPU Socket: LGA 1151 Chipset Type: Intel H310 | Memory Speed: 45 GHz
Yet another option for budget builds, a motherboard that is not heavy on your pocket.
The MSI H301M Pro-VDH Plus is a motherboard that will cater to all your gaming needs that is expected in a budget build and is compatible with the 9th generation of Intel processors and thus will work flawlessly with the i5-9400F, and installing it doesn't require you to go and tinker with the BIOS updates.
This motherboard is equipped with 4+2 phase voltage regulators, which are operated by a single 8 pin connector and provide smooth power to the CPU and other parts.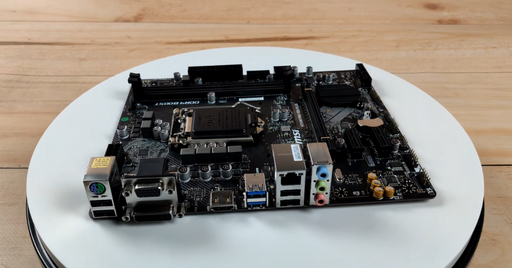 Sadly the motherboard Is not capable to make the i5-9400F to run at max turbo mood but if it is the least of your concerns, then this is a very reliable option
As it just costs $59.99. So complaining that it can't run the i5-9400F at max turbo is not rational. It only has 2 DIMMs slots and which means you can't expand your ram more than 32GB, while that is something even some of the costlier motherboards don't provide, the most surprising exclusion is the M.2 port, which is the need of any gamer.
The motherboard supports only one graphic card and this is not surprising.
If you have slightly more money then pick another motherboard as you have to make too many sacrifices here but for $59.99, this just gets the job done.
REASONS TO BUY
✓Under $60
✓Comes with all basic features
REASONS TO AVOID
✗Missing M.2 slots
✗Only 2 DIMMs slots
Gigabyte B365M DS3H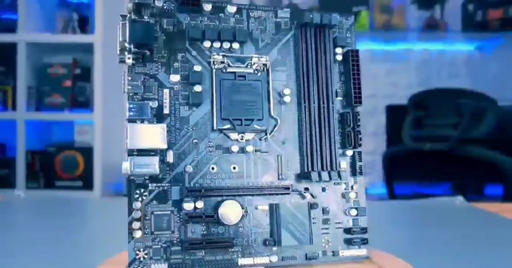 SPECIFICATIONS
Brand: Gigabyte | CPU Socket: LGA 1151 Chipset Type: Intel B365 | Memory Speed: 2666 MHz
This just like its cousins and brothers in this price-category does enough, don't expect out-of-the-world performance at this price range. It is much better than the previous entry on our list but you have to spend slightly more than $59.99 to get this one. It will work well and for the next 2 years, you won't need to upgrade.
The motherboard is compatible with the i5-9400F and will run it very basically as it is not capable enough to support the max turbo. The motherboard looks great with its black design and white catercorner circuit line and looks very premium.
The biggest advantage of this motherboard is that it has four DIMMs slots, which means you can install memory up to 64 GB with a clock speed of 2666 MHZ. This is the main reason anyone would want to pick this motherboard because other options in the market are very miser when it comes to providing more DIMMs slots.
There is an M.2 slot that is very good as it makes it compatible with NVMe SSDs, and there are six SATA slots, and all are designed in a very good manner.
There are two USB 3.1 Generation 1 ports, alongside that, you will find 4 Type-A ports, however, it doesn't have a USB Type-C port and it makes me sad, as I think it is a very important feature.
Gigabyte motherboards are amazing in one aspect, and that is how they provide you with Dual Bios, so if in any case one of your BIOS is corrupted, you can easily make a recovery from the secondary BIOS. Thus it will save you time and will help you avoid a trip to the repair department of Gigabyte.
This would have been a perfect motherboard had it been compatible with the i5-9400F turbo mode, this compromise will be made by very few gamers, but those ready to make that compromise for more memory, and want to do less CPU extensive tasks with a PC will be fine with this motherboard.
REASONS TO BUY
✓Premium look
✓Four DIMMS and 6x SATA for future expansion.
REASONS TO AVOID
✗Not compatible with Intel's turbo mode
✗Only one M.2 slot
MSI Z390-A PRO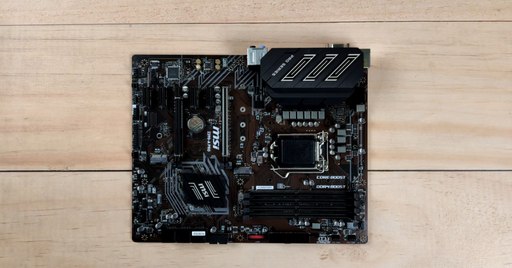 SPECIFICATIONS
Brand: MSI | CPU Socket: LGA 1151 Chipset Type: Intel Z390 | Memory Speed: 4400 MHz
Our last two motherboards came equipped with B365 chipsets, which is not compatible with Intel's turbo boost all the time but some people don't want to spend extra for that, but we would recommend you to spend extra for a Z390 chipset in a motherboard. The MSI Z390-A Pro is one of them.
The beauty of this motherboard is that it is compatible with both high-end and low-end processors. For now, our focus is on a low-end processor but in the future, if you are looking to upgrade your CPU, then this motherboard is a great option.
This motherboard has a coffee-colored frame, which is quite aesthetic. It has black slots and black components, giving it a very pleasing grim look, especially if you have some RGB lights in your set-up.
There are four ram slots in this motherboard, enabling you to install 128 GB of DDR4 memory at a speed of 2333 MHz, while it has the ability to allow you to have overclocked modules like 4600 MHz.
There are two M.2 slots and it can accommodate a pair of NVMe SSDs and besides that, it has six SATA slots for storage and it has a transfer rate of 3GBPS.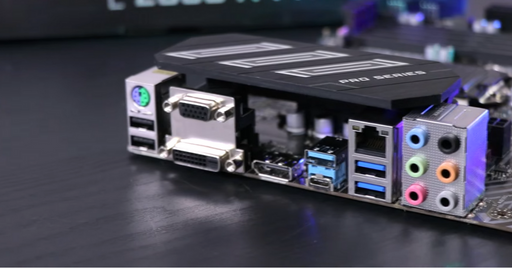 The motherboard can give you a dual-graphic card setup. The MSI Steel Armor on the main slot means higher GPU overclocking and more protection from electromagnetic interference. It has four PCLe x1 slots, which aids in helping you install expansion cards.
The rear has 3 ports, which include a USB 3.1 Gen2 port @ 10GBPS and both Type-A and Type-C ports.
There are other basic ports like audio, Ethernet, and the other essential ports but it lacks Wi-Fi, which is a bummer considering the price. If you are a fan of RGB then you will be disappointed by the lack of it but in this price-tag, you can expect a little RGB but I think it is not a big mistake.
REASONS TO BUY
✓Intel's Turbo mode is compatible with this
✓Type-C port
✓Two M.2 slots
✓4200 MHZ ram support
REASONS TO AVOID
✗No Wi-Fi
ASRock B365 Phantom Gaming 4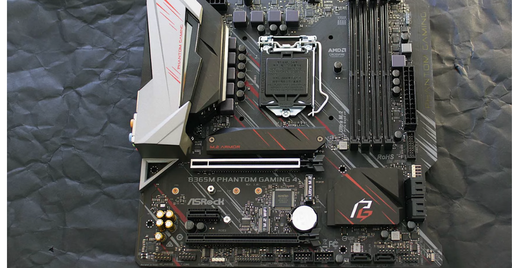 SPECIFICATIONS
Brand: ASRock | CPU Socket: LGA 1151 Chipset Type: Intel B365 | Memory Speed: 2400 MHz
This is a very good motherboard for the people who are fond of RGB lighting and consider them a very vital aspect of their build, I have always been a fan of ASRock for providing premium features at a very reasonable rate.
This motherboard does what is expected from a good motherboard but above that, there are certain features that make you think, you are getting more value than what you paid for.
The motherboard has a powerful design that gives you eight-phase voltage regulators making it draw most power from the 8-Pin and 12V power connector and thus the power delivery to the processor is flawless. The looks of this motherboard and the feel above all are premium with the ominous black and the flamy red combination.
The motherboard has a total of four DIMMs slots, which allows you to have a maximum ram of 64 GB that can only be clocked at 2666 MHz and that is very good for a budget build. This has plenty of connectivity options, like the USB 3.1 Gen1 ports, also including the Type-A and Type-C.
There are six STA slots on this motherboard for storage and have a pair of M.2 slots for the brilliant NVMe SSDs and it comes with a Wi-Fi module, which many motherboards in this segment tend to skip.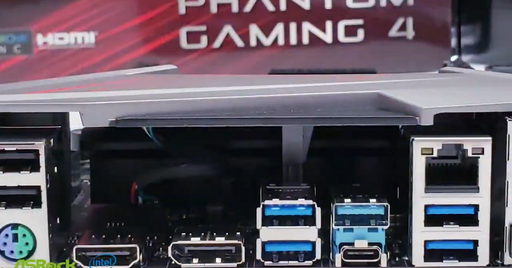 The Realtek audio and network controllers are of very premium quality and it is the reason you will see a slight bump in the price but I think it is worth it, as once you get used to this audio output, you will not want to go back.
The Intel's turbo max is not compatible with this motherboard as it requires a Z390 chipset, which this motherboard lacks. But the thing we have noticed with the Z390 motherboards is that they make a lot of compromises, especially those with the price-tag of around $100 and slightly above.
So if you want the premium features, like immense audio output, then you have to let go of the turbo max. The most highlighting feature of this motherboard is the RGB lights and the look it gives.
The back panel looks gorgeous because of the lighting. The other feature this is having is the support for multiple graphics cards, because it has two PCLe x16 slots, one PCLe X1 slot, and one PCLe x4 slot.
The heatsink over the main and secondary M.2 slots have heat sinks over them, which makes the cooling down process easy and efficient.
REASONS TO BUY
✓RGB
✓Premium features
✓Steel Armor on PCI slots
✓Great audio and network controllers
REASONS TO AVOID
✗Lack of support for Intel's Turbo boost max 
Factors to Consider Before Buying Best Motherboards for i5 9400f
Building a PC is not an easy task and without the right components, you can build an outdated, bottlenecked, or worse, a non-future-proof PC. To avoid all this, picking the best component with respect to your budget and expectations is very vital.
The motherboard is a very important piece of your PC and the compatibility of your other parts with this is vital. The Intel i5-9400F is a 9th generation processor and you would need a motherboard that is compatible with the 9th generation processors.
As it is a budget processor then we have to find a motherboard that falls in the budget category, installing it on an expensive motherboard doesn't make much sense.
What Are Your Requirements?
A motherboard connects all the components in your build and it is the chief reason your computer communicates with each other. So picking the right motherboard is of the utmost importance.
People have varying requirements, some need certain slots while others don't need those slots. Some want a dual graphic card setup while others find it a luxury, some want Intel's TurboTax technology while others find it a gimmick, it all comes down to personal choice.
Though one thing you need to keep in mind, if down the line; you decide to upgrade your PC and you have picked the wrong motherboard then you will be stuck like console gamers of the last generation, who can't run the latest games because of the inability of consoles to be upgraded.
What Size PC Are You Intending To Build?
Building a PC is for different reasons. Some people build it for office, some people build it for casual tasks, some people build it for work while others might build it to be connected to a home theatre, the uses are many but the form factor is an important aspect.
For gaming, you might want a bigger setup, but in contrast to that; a home theatre PC is small, so it can fit well in your lounge. That is determined by a case.
The smaller the case, the smaller the motherboard. If you pick the wrong motherboard for the wrong case, then that will land you in an unnecessary waste of time or money.
To avoid this, always check the dimensions of your case and the motherboard you intend to use.
The thing that you should keep in mind, the larger the motherboard; the more the slots and more components are supported by it. For example, a small motherboard might only accommodate 2 Ram slots while a larger one can have 8 ram slots.
The Motherboard With Respect To Other Components?
GPU:
There are PCLe slots on a motherboard and most of the current GPUs are installed on a motherboard using the PCLe x16 slot.
The generation of these slots matters a lot and before buying a GPU or motherboard, look at what generation of the PCLe slot is required, for example, PCLe 3.0 or PCLe 3rd generation slots have become the industrial benchmark.
The width of these slots also matters as some GPUs require two slots while others require one slot to be installed.
Some people are fond of a dual graphic card setup and to have this you have to look at the specifications of a motherboard very carefully as there are motherboards that don't have enough PCLe slots for a dual graphics card setup.
Ram
The CPU needs a place to temporarily store information and that storage is provided by RAM, or random access memory if you are fond of knowing what the abbreviation stands for.
The amount of RAM depends on the user, 16 GB is a safe bet in our opinion considering how the minimum requirements for games and software are changing.
There is a slot known as the DIMM (dual in-line memory module) and that is used to slot the RAM on the motherboard.
The number of these slots on the motherboard determines how much RAM you can have on your PC and it usually varies from a pair of slots to eight slots.
The RAM you purchase comes in a pair of two or 4 RAMS. For example, if you want a RAM of 16 GB, then you would need a pair of RAM modules that will make up 16 GB (8GB+8GB) or 4 RAM modules which will make 16 GB (4GBx4).
So whatever RAM setup you want in your PC, make sure that enough DIMMs slots on the motherboard are there for both your future and current needs.
Storage
To connect storage to a motherboard you need a connection known as ATA or SATA. SATA 3.0 is the latest generation of SATA and its transfer speed is 600 MB/s for SATA SSDs and 150MB/s for HDDs.
You can equip your computer with both the HDDs and SDDs, some people prefer a dual setup, where you have both of them but other people only rely on HDD for storage. It depends on your budget and what your expectations are.
On a lower budget, most PC builds come with an affordable solid-state drive and 1 to 2 TB HDD. SATA 3.0 has variations and the latest is the M.2 form of it.
Conclusion
These were some of our top picks that meet the demands of a budget build powered by the i5-9400F.
There are many types of gamers, some want absolute performance and others want performance without compromise on aesthetics, but there are fanboys of a specific company, it all comes down to your preference but in my honest opinion the best motherboard that will go well with the i5-9400F is the MSI Z390.
It takes out the most juice from this processor and also has some brilliant features at a very good price but the ASRock B365 Phantom Gaming 4 won't be a bad choice either.
At the end of the day, any of the above motherboards will cater to your needs as long as you don't make a decision of going with a very expensive motherboard for a setup powered by the i5-9400F, like many novice builders.